Curriculum Vitae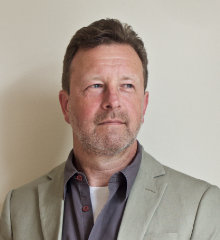 Ian Brice was educated in Sierra Leone, in South London, in Surrey, and in Brighton where he graduated with a BA Honours degree in Interior Design.
He began his career in 1981 with Dupree Partnership, working on concept development, presentation and detail design for retail outlets in Australia, France and Britain.
From 1982 to 1986 he worked for Carmona Dover on research, detail design, graphic design and implementation for bars, restaurants, hotels and casinos in England and Scotland.
Working for Design House from 1986 to 1989 he was involved in concept development, presentation, detail design and project management for bars, public houses and restaurants in London and Southern England.
In 1989 he joined Godsmark Gordon Design Consultants where, with Hamilton Godsmark, he produced the design concept for The Carphone Warehouse and project managed the roll-out of 180 branches. He also worked on design concepts and project management for Prêt à Manger, Thomas Pink, R M Williams, Nokia, Pied à Terre and the refurbishment of a centre for homeless people at St Martin-in-the-Fields, London for the BBC TV series Challenge Anneka.
In 1999 he went into partnership with George Georgiou at General Practice Design Consultants and was jointly responsible for concept design and implementation of projects for nails inc, Books for Cooks, Neal's Yard Remedies, Sheepdrove Organic Farm, Mr Fish, De Gustibus Artisan Bakers and private houses in North and West London.
In 2010 he formed Brice Design Consultants and has since worked on the design and project management of several private residences, on an eco-friendly guesthouse project, and on design management of a Giraffe restaurant branch for Dover Design.
Services
Brice Design Consultants specialise in the design and project management of commercial and residential interiors projects, providing all or some of the following services:
Obtain client's brief
Submit fee proposal
Carry out measured and photographic site survey
Prepare feasibility study, including sketch design, cost forecast and programme
Advise on the need for, and liaise with, other consultants
Prepare detail design
Prepare working details, including drawings and schedules
Submit applications for local authority approval: planning, Building Control etc
Submit applications for landlord or freeholder approval
Invite, appraise and report on main contractors' tenders
Invite, appraise and report on sub-contractors' and suppliers' quotations
Arrange agreement between client and main contractor
Chair and minute meetings: pre-commencement, site meetings and snagging
Monitor costs and authorise interim payments
Agree or negotiate any variations with client and main contractor
Monitor defects liability period
Chair defects meeting, issue schedule and supervise work